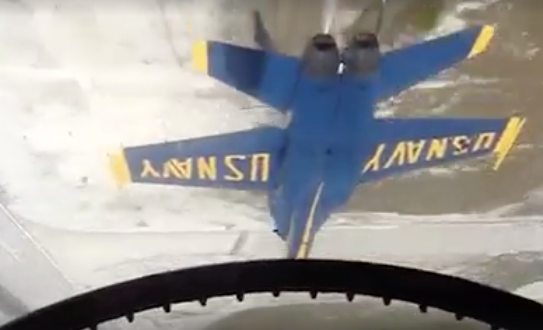 Hang on! #BlueAngels Filmed over Key West ( #KeyWest ), from the backseat of the slot position being flown by Major Christopher Collins.
About Major Christopher Collins
Pre-Navy/Marine
Major Christopher Collins is a native of Darien, Conn., and graduated from Darien High School in 1993. He attended Norwich University where he graduated with a Bachelor of Science degree in Business Management in 1997.
Navy/Marine
Chris was commissioned a Marine Corps Second Lieutenant through the Platoon Leaders Class and reported to Quantico, Va., for The Basic School in July 1997. He reported for aviation indoctrination at Naval Air Station (NAS) Pensacola, Fla., in February 1998. Chris completed primary flight training in the T-34C Mentor at NAS Whiting Field, Fla., and transferred to NAS Meridian, Miss., for intermediate flight training. While there, he flew the T-2C Buckeye. Chris was then assigned to NAS Kingsville, Texas, for advanced flight training where he flew the T-45A Goshawk. He completed his flight training in April 2000 and received his wings of gold in May.
In July 2000, Chris reported to Marine Fighter Attack Squadron 101 (VMFAT-101), the "Sharpshooters," at MCAS Miramar, Calif., for training in the F/A-18 Hornet. In September 2001, he joined Marine Fighter Attack Squadron 323 (VMFA-323), the "Death Rattlers." Chris deployed aboard USS Constellation (CV 64) in October 2002, flying combat missions in support of Operations Southern Watch and Iraqi Freedom. Chris also deployed aboard USS Carl Vinson (CVN 70), flying combat operations in support of Operation Iraqi Freedom III. While serving with VMFA-323, he served as the Logistics Officer, Schedules Writer, Powerline Division Officer, Administrative Officer and the Assistant Aviation Maintenance Officer. While there, the "Death Rattlers" received the 2003 Robert M. Hanson Award as the Marine Corps Aviation Association's Fighter Attack Squadron of the Year.
In October 2005, Chris returned to VMFAT-101 as an F/A-18 instructor pilot. During his tour, Chris was selected to attend the United States Navy Fighter Weapons School (TOPGUN) and graduated in July 2007.
Blue Angels
Chris joined the Blue Angels in September 2008, where he served as the Left Wing pilot in 2009. He has accumulated more than 2,800 flight hours and 350 carrier arrested landings. His decorations include three Strike Flight Air Medals, two Navy and Marine Corps Commendation Medals with Combat Distinguishing Device, a Navy and Marine Corps Achievement Medal and various personal and unit awards.
He flies the #4 plane and is slot in the Blue Angels