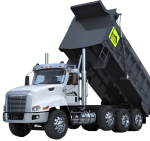 Long Business Description
TrueHaul was founded in March of 2017, with the idea of providing competitive trucking services to our clients in the Florida Keys. Since inception, we have expanded to servicing Miami-Dade Country, Broward County and Palm Beach County. In 2017, the company was started with a single dump truck and has since grown to a fleet of trucks that deliver hundreds of loads per day.
Our founders have deep ties in the construction industry throughout Florida and have built a network of clients that spans from Central Florida to Key West.
The company´s core business includes providing aggregate trucking for heavy civil contractors, aggregate supply, and pit-to-plant trucking services for ready mix concrete operations.
Rely on our fleet
for all your hauling needs.
An efficient supply chain is vital to the success of any building project. If materials don't reach their destination on time, the entire project schedule can be jeopardized. We pride ourselves on being able to provide the most accurate and efficient transportation logistics services, so you don't have to worry about delays that can effect your bottom line.
We can help you deliver materials you've purchased directly from us or simply move the materials you already have. Our fleet of trucks, including bulk cement tankers, flatbeds and dump trucks, means we can deliver almost anything your project needs.
Send Message to listing owner