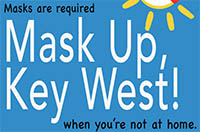 The City of Key West recently released posters for businesses to display regarding wearing a mask in Key West.
Here is a run down of the new abnormal:
Not at home? Wear a mask.
Inside your hotel room? NO
Inside the lobby? YES
At the pool? YES
At a restaurant while eating or drinking?

Yes, to enter
Yes, while speaking to the server
No, if seated at the table and eating or drinking
Yes, if moving about the restaurant

Alone in your own car? No
In a taxi, Uber, Lyft, etc? YES
At a salon or barbershop? YES to enter. NO, if you are seated and the mask interferes with service.
While walking around Key West? YES
While shopping in Key West? YES
While at the beach? YES
Here is the city's version as an Adobe PDf file:
https://www.cityofkeywest-fl.gov/egov/documents/1595524141_78918.pdf
and
https://www.cityofkeywest-fl.gov/egov/documents/1595363804_2809.pdf
Information source: https://www.cityofkeywest-fl.gov/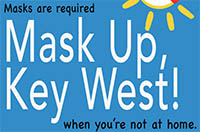 As of now, facial coverings are mandatory until June 1, 2021.
Furthermore, police officers can issue a citation of up to $500 to individuals OR business that are in violation.
The Monroe County Board of County Commissioners says a covering over the nose and mouth may include a face mask, homemade mask, or other cloth, silk, or linen covering, such as a scarf, bandana, handkerchief, or other similar cloth covering.
Medical and surgical face masks, such as N95 masks, should be reserved for health care personnel and other first responders with the greatest need for such personal protective equipment.
Children 6 years old or younger are not required to wear a mask.