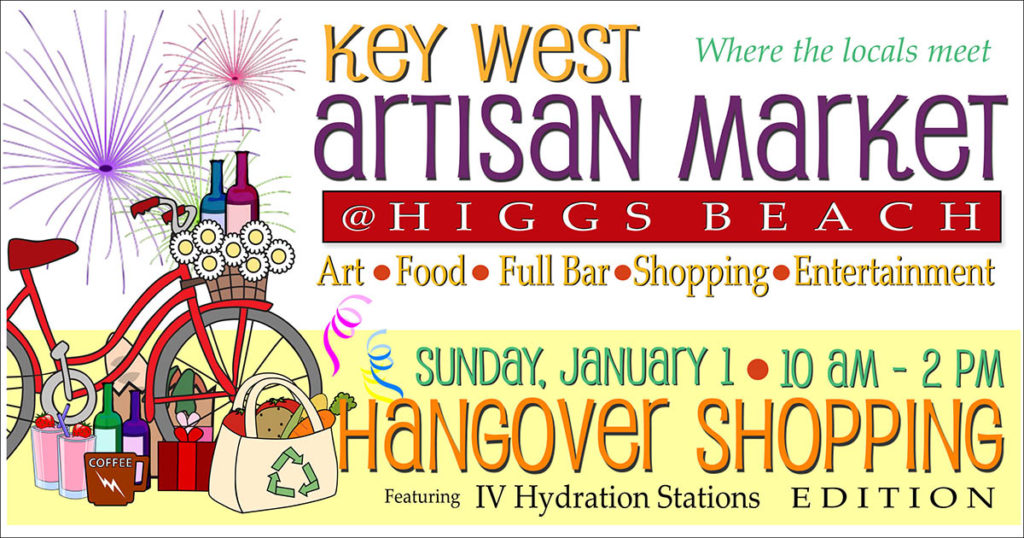 The "Hangover shopping" edition of the Key West Artisan Market is Sunday, January 1, 2023 from 10 am to 2 pm at Higgs Beach in the parking lot at Sonny Mccoy Indigenous Park, 1801 White Street, across from White Street Pier.
Guests may enjoy bloody marys & mimosas to help nurse the New Year's eve good time along with a full bar from Great Events Catering, coffee, natural juices and cut fruit, plus multiple food stalls offering eat-here or take-away. Shop a curated outdoor market offering fine crafts, art and jewelry from talented Florida Keys makers. Stock your pantry and fridge with fresh produce, artisan cheeses, local seafood, honey, pickles, pastries, cigars, soaps and so much more. Bring a lawn chair and listen to awesome musicians and support the featured charities.
This show only, interested patrons may meet the ladies from IV Hydration Stations Key West, who will be offering on the spot one-of-a-kind treatments to get you feeling just like your old self!
The pet friendly market is conveniently located close to the Higgs Beach Dog Park, free West Martello Tower botanical gardens, White Street Pier and of course, the alluring Atlantic ocean across the street at Higgs Beach. Open 10 am to 2 pm every other Sunday in season by locals, for locals.
Free entry, ample free parking. Guests are encouraged to ride bikes and BYOB (bring your own bags)