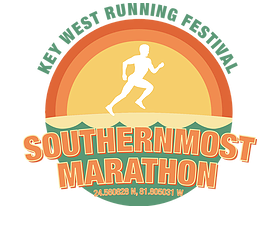 Key West Running Festival | Full Marathon, Half Marathon & 5K
Imagine running through the southernmost island in the United States while enjoying a break from the ordinary. The Southernmost Marathon & Half / Key West Running Festival promises just that- 26.2, 13.1 or 3.1 miles of ocean and gulf views, as well as iconic Key West landmarks. Join us this fall for Key West and the Florida Keys premier race- the Southernmost Marathon & Half. Come for the race and stay for a good time! All participants will receive an event t-shirt at packet pick up and finisher medal.
​
This fast and flat course takes you off of the island of Key West, through Stock Island, and up to US 1 for a turnaround. Once back on the island the Gulf of Mexico greets you to help you finish your race. There is a 6 hour time limit for the marathon. Please be advised that we will have a sweep vehicle if you do not finish in this time allowance.
​The Half takes you off of Key West and onto Stock Island for the turnaround. On the way back, the Gulf side of the island provides water views for a majority of the way. Water stations will be available but unmanned after 12pm.
​
The start and finish for the Marathon and Half Marathon are at the Lagerheads 0 Simonton Street, Key West, FL.
Need a hotel room? The Southermost Marathon brings in ALOT of runners, book your room before its too late! There are plenty of different room rates available, find the best Key West hotel for Southernmost Marathon
Date
October 12th, 2019
Start & Finish Location
Lagerheads
0 Simonton Street, Key West, FL.
Distances
Full Marathon 26.2mi Run
Half Marathon 13.1mi Run
5K 3.1mi Run
While you can stay anywhere, there are 4 main host hotels for this marathon:
The Gates Hotel Key West – 4 star host hotel
3824 N Roosevelt Blvd, Key West, FL, 33040
4-star hotel with outdoor pool, near Key West Art and Historical Society
Check rates for the Gates Hotel Key West
24 North Hotel
3820 North Roosevelt Boulevard, Key West, FL, 33040
4-star hotel with 3 restaurants, near Key West Golf Club
Check rates for 24 North
Parrot Key Hotel & Villas, Key West – 4-star
2801 N Roosevelt Blvd, Key West, FL, 33040
Waterfront resort with 4 outdoor pools, near Smathers Beach
Check rates for Parrot Key Hotel and Villas
Ocean Key Resort – A Noble House Resort, Key West – 4-star
Zero Duval St., Key West, FL, 33040
4-star resort with spa, near Duval Street
Check rate for Ocean Key Resort with spa
Want to stay elsewhere in Key West? There are lots of options at various rates that fit your budget. Check rates at other great hotels for the Key West Southernmost Marathon
And last but not least, nearby Stock Island has the award winning Perry Hotel, just a short 5 minute drive up US-1
The Perry Hotel Key West, Key West 4-star
7001 Shrimp Road, Key West, FL, 33040
Waterfront resort with 2 restaurants, near Key West Harbour
Check rates at the award winning Perry Hotel