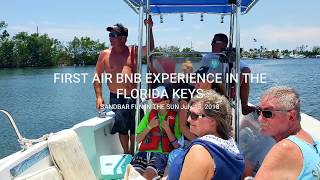 FIRST EVER AIR BNB EXPERIENCE IN THE FLORIDA KEYS "SANDBAR FUN IN THE SUN PARTY"

Please watch: "Florida Keys Turtle Hospital in Marathon Top Ten things to do on vacation in the Florida Keys"
https://www.youtube.com/watch?v=KupGSLALm6A –~–
The Florida Keys launched it's first Air BnB Experience in July of 2018. The listing is called "Sandbar Fun in the Sun Party" by hosts Kimberley Cox and Captain Todd Chandler.
This particular Sandbar trip was to the sandbar in front of White Marlin Beach in the Port Antigua community. This community is private and you are not allowed to use it's beautiful beach unless you are a resident or vacation renter. BUT the community does not own the water. We stay off the shore and are courteous by being respectful and not playing loud music (unlike most that visit that sandbar). As you can imagine, the high volume music coming from around a hundred boats or more can make for some very disgruntled homeowners.
This particular Experience listing, however, has changed to the more well-known Islamorada sandbar. No homeowners in that area to worry about!