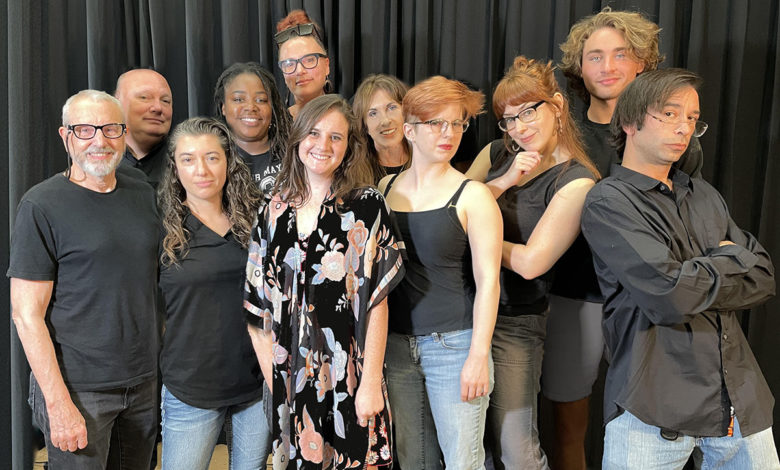 Fringe Theater's Opening Show is Short n' Sketchy!
Fringe Theater opens its 2022-23 season with Short n' Sketchy, an original comedy of skits
and sketches from the wild and wacky minds of local actors Carolyn Cooper and Mathias
Maloff. The hilarious show runs for five performances, Dec 28 – Dec 31, in the Key West
Armory located at 600 White Street.
"It's the perfect season opener for us," explains Fringe's Managing Artistic Director Rebecca
Tomlinson. "It's a new play from new playwrights with a new director, and it introduces a lot of
new actors to our audience. Plus, it's very funny!"
Fringe is well-known for providing opportunities for emerging artists to develop new skills. Its
Art House Theater approach means short runs, limited seating, and a focus on Key West
talent. And playwrights Mathias Maloff and Carolyn Cooper are two BIG Key West talents!
In fact, if you've been to the Waterfront Playhouse, Red Barn, Tennessee Williams Theater,
Fringe Theater, Key West Theater, Key West Burlesque, or Coffee Mill, you've most likely
seen them or seen their work on stage. In addition to performing, Carolyn is well known for her
choreography and Mathias stays busy as a combat coach and parttime pirate.
So just how did this original show come to be?
Fringe held roundtable discussions with actors, writers, and technicians last season, asking
them about their personal and theatrical goals. "Carolyn and Mathias had written comedy
pieces during the pandemic as part of our Fringe Friday series," Rebecca explains. They
wanted to try their hand at creating a full evening. "When theater people this talented say they
want to try something," Rebecca laughs, 'the only logical response is an enthusiastic, Yes!"
What they created is a Saturday Night Live style mashup of short skits that range from
situation comedy to slapstick — and just a little of the stuff your mother wouldn't let you do at
the dinner table. What was once just fun ideas and back and forth jib-jab one-upmanship
between friends has now been turned into a comedy-sketch show that you don't want to miss.
Short n' Sketchy is directed by Carolyn while Mathias is joining the cast to bring this crazy
show to life. Featured actors include Fritzie Estimond, Erin McKenna, Gann Monroe, Jim
Speake, Donna Stabile, John Swann, Cassidy Timms, Susannah Wells, and Iain Wilcox.
Together this talented company will create a fast-paced, over-the-top, (and only slightly
questionable) funny night of sketchy comedic skits.
Tickets for Short n' Sketchy are $35 and $50 and are available at www.fringetheater.org or by
calling the Fringe Box Office at 305-731-0581. The show runs Dec 28-Dec 31 at the Armory,
located at 600 White Street. For more information, email info@fringetheater.org.
More Info and Tickets