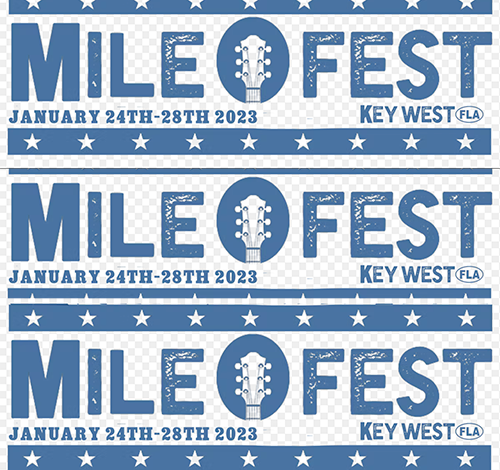 Hard to believe it's been six years since Mile 0 Fest first arrived on the red dirt and Americana scene down in Key West, Florida. A logistical hurdle just to secure artists and patrons to the southernmost point of America, the very first lineup was far too impressive for many to ignore and this event continues to evolve and grow year after year. Oh Wook! Productions and those working alongside their organization (the city of Key West included), have curated one of the finest festivals in the US, regardless of genre. Maintaining their January dates for this 6th installment (January 24-28, 2023 (Tues-Sat)), the lineup of artists expected to join fans makes this festival and location a must do.
Escape the winter and experience the Mile 0 Fest in the Southernmost city, Key West on January 24-28, 2023
MILE 0 FEST LINEUPS
Mile 0 Fest Artists returning for their 6th year!
Bri Bagwell, Wade Bowen, Kaitlin Butts, Cody Canada and the Departed, Jason Eady, Mike and the Moonpies, Courtney Patton, Red Dirt Rangers, Tina Wilkins, Walt Wilkins, Jamie Lin Wilson
Mile 0 Fest Artists returning from a previous year!
American Aquarium, Willy Braun, Roger Clyne and the Peacemakers, Roger Creager, Dalton Domino, Kevin Fowler, Kylie Frey, John Fullbright, Adam Hood, Jack Ingram, Lucas Jagneaux and the Roadshow, Corb Lund, Jesse Lynn Madera, Micky and the Motorcars, Randy Rogers Band, RC and the Ambers, Shane Smith and the Saints, Heather Stalling, Max Stalling, Sunny Sweeney, The Band of Heathens, The Damn Quails, The Great Divide, The Red Clay Strays, Topo Chico Cowboys (Josh Grider and Drew Kennedy), Morgan Wade
Artists making their debut appearance at Mile 0 Fest in 2023:
Jesse Daniel, Midnight River Choir, Lauren Morrow, Ian Munsick, Muscadine Bloodline, Kayla Ray, Them Dirty Roses
Packages and Passes go on sale to the public on July 13th, 2022 at 10 am EST.
BE READY TO BUY!! This is a small capacity show and packages & passes will go FAST (this is a 4,000 capacity venue…small island, cozy venue, BIG TIME MUSIC AND FUN!
Ticket for this festival are limited to 4,000 and sell out quickly,
act fast and book your tickets ASAP!
 Best Hotel Rates for Mile 0 Fest attendees
Key West Tours, Sightseeing and More
Looking to maximize your stay in Key West?  We've got the most comprehensive list of things to do in Key West and The Florida Keys.  Sunset Cruises, Sandbar day trips, EcoTours, Pub Crawls, Walking Tours, scooter rentals. Need something pet friendly, we got you covered! Book your experiences in advance to guarantee your spot and take advantage of everything Key West has to offer.