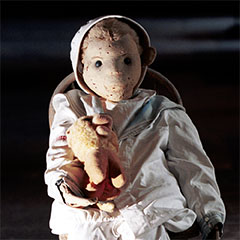 What is haunting Robert the Doll? The Robert the Doll Experience ghost tour at Fort East Martello packs history, mystery, and paranormal exploration, into an intimate one-hour encounter. Get up close and personal with the world's most haunted doll in the shadowy halls of his haunted 1862 Civil War fortress.
Was Robert the Doll created with voodoo by a vengeful servant?
Did Robert the Doll inspire Chucky from the Child's Play movies?
Will Robert the Doll curse you if you don't ask permission to take his photo?
Robert the Doll sits in his own case at the Fort East Martello Museum in Key West. He's a handmade doll that was made and stuffed with wood and wool and is dressed in a sailor suit.
He was a gift to Robert Eugene Otto, who named the doll after him and, according to legend, were the best of buddies.
However, as time went on, Robert began to show his nefarious side to all those who owned him or was near him. It soon became Florida legend that the doll was cursed, possibly by voodoo.
After causing mischief to the homes of many children, he was donated to the Fort East Martello Museum in 1994.
Robert The Doll Experience
at Key West's Fort East Martello
Experience the world's most haunted doll after dark!
Tours can be booked up to 30 days in advance.
Current tours start at 8pm at Fort East Martello Museum (next to the airport). Reservations are required. Private and late night tours available by request.
East Martello Civil War Fort & Museum
3501 S. Roosevelt Blvd.
Key West, FL 33040
Reservations are required, and all tickets must be purchased in advance online. (goto: ghostfort.com )
Please do not contact the Fort East Martello Museum with questions about the Robert the Doll Experience ghost tour.
All tours are currently conducted by David Sloan. Sloan is the author of Ghosts of Key West, Haunted Key West, & the biography of Robert the Doll. Books are available for purchase in the museum gift shop, and David is available to sign books after each tour.
View this post on Instagram
View this post on Instagram
View this post on Instagram