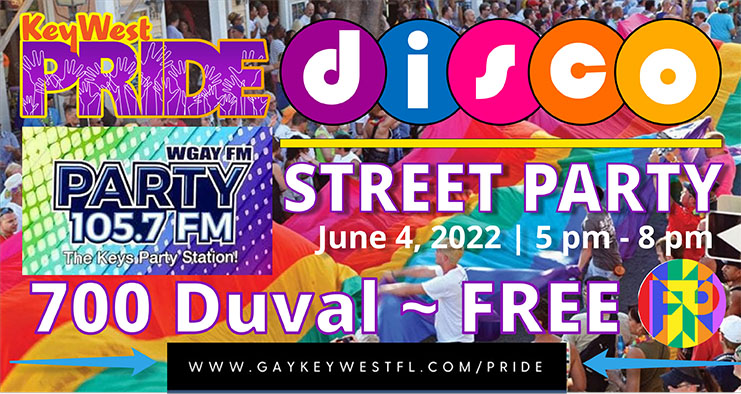 The organizers of the Key West Artisan Market and the Key West Farmers Market are once again partnering with the Key West Business Guild to coordinate the 2022 Key West Pride Street Fair. The event will be held in the 600, 700, 800 and 900 blocks of Duval Street Saturday, June 4 from 10 am to 5 pm and will include a wide variety of vendors offering everything from handmade crafts, fine art, merchandise, local nonprofit information, LGBTQ and food stalls.
After the Street Fair closes, the FREE Pride Disco Street Party with the Keys Party Station WGAY-FM 105.7 along with Aqua, Bourbon Street Pub, 22&Co, 801 Bourbon, Mangos, Pinchers, Poke in the Rear and other local businesses takes place from 5 pm to 8 pm in the 700 block of Duval Street. Guests are encouraged to wear disco/rainbow attire, don those roller blades and bring their best Travolta moves for dancing in the street. There will be party favors, contests, prizes from 4th and Pride Vodka, photo ops, full bars with happy hour drink specials and lots of great food for purchase.
Visit www.gaykeywestfl.com/pride for more information.
[googlemap src="https://www.google.com/maps/place/700+Duval+St,+Key+West,+FL+33040/@24.553555,-81.8015547,17z/data=!3m1!4b1!4m5!3m4!1s0x88d1b6e9cc90a8e5:0xc653aa341f5fd42d!8m2!3d24.553555!4d-81.8015547″]