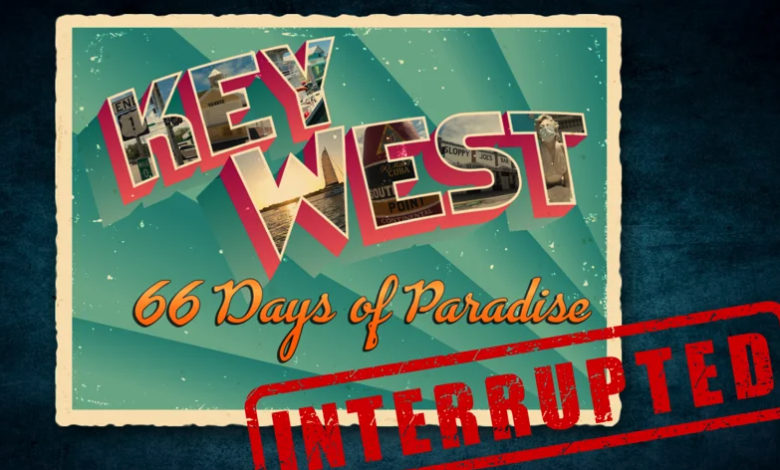 Haunting, Surreal, Pristine: "Key West: 66 Days of Paradise, Interrupted" Explores a Deserted Key West While on COVID-19 Lockdown
As officials remove Florida Keys' two controversial COVID-19 checkpoints and life slowly returns to "normal" for residents who have been under lockdown for more than two months, I'm proud to share my short film visually chronicling Key West's isolation: "Key West: 66 Days of Paradise, Interrupted" is a rare insider's look at the world-famous tourist hotspot as you've never seen it before… as a surreal quiet paused Key West's bustling nightlife, prolific local music/art scene and the quirky allure that has made this tropical paradise home to such literary greats as Ernest Hemmingway, Tennessee Williams and Judy Blume.
Content and Video Source: https://vimeo.com/424565971 and 66daysparadiseinterrupted.com
Key West: 66 Days of Paradise Interrupted from 2CTV on Vimeo.
With access reserved strictly for locals and essential workers, I shot this footage at the height of Key West's quarantine in mid-May while I was there hosting a food drive on behalf of my nonprofit. I used a DJIA Osmo with 1080p motion stabilization and hyperlapse to capture striking scenes of such quintessential Key West destinations as the Southernmost Point Buoy (only 90 miles to Cuba), Sloppy Joe's, Mallory Square, Garrison Bight, Duvall Street, the Ernest Hemmingway Home, Pier House Resort and Higgs and Smathers beaches, all minus the throngs of visitors.
Getting the opportunity to shoot behind the checkpoints, I knew I was capturing history, as the Keys had never experienced such a long and enduring shutdown, whether facing hurricanes, the Mariel Boatlift or even near abandonment during the Great Depression. There were no boarded-up storefronts and signs like you'd see just before or after a storm. Instead, Key West looked absolutely pristine while in hibernation… just without the people. This was something nobody had seen before and we hope nobody will see again.
The result is a dramatic visual perspective: a strange, tranquil beauty in the near-overnight disappearance of tourism and yet one fraught with foreboding as the city's chief economy vanished with it. While the unprecedented Florida Keys lockdown resulted in a much smaller number of COVID-19 cases and deaths than most counties, the area's employment rate went from Florida's lowest to the state's second highest in just a matter of months.
Yet, even though my short film chronicles measures for which the long-term impact was unknown at the time of filming, it also shares a message of upbeat optimism as the Florida Keys lockdowns are lifted (effective June 1) and the region's return to being better than ever is only a matter of "Key West Time," as Howard Livingston's classic song goes.
Life returns, and Key West will rise again to be the quirky and charming melting pot that makes it truly one of my favorite places in the world. This is my love letter to Key West and the resilient, pull-together spirit of its people, who will undoubtedly come back better than ever as they always have.
Key West isn't my first COVID-19 footage locale. Using a Mavic 2 Pro drone, I also captured stunning footage of a deserted South Beach in lockdown and a vacant Ocean Drive at night.
Credits
Director / Producer: Chris Sloan
Photography: Chris Sloan
Editing: Jesus Martinez
Graphics: Bob Cobb, Jesus Martinez
Website Development: Andy Fernandez
Sound Design: Jesus Martinez
Color: Jesus Martinez
Song: "Livin' on Key West Time" by Howard Livingston and Mile Marker 24 Band
Other Music: Artlist.io
Special Thanks to
Jack Smith and Kim Works of Pirate Radio Key West
The Citizens of Key West
About Chris Sloan
A multiple Emmy® Award-winning producer, Chris Sloan is an entrepreneur, change agent and thought leader with a unique ability to bring talent together for great things, both in business and humanitarianism. He injects a fierce passion for "doing" into every aspect of his life, and the breadth of his resulting accomplishments speaks for itself. Sloan is the owner and president of Miami-based, nationally known video marketing and production company 2C, and co-founder of Caleb and Calder Sloan's Awesome Foundation, a 501(c) 3 nonprofit benefitting disadvantaged children as well as children dealing with grief and loss. Follow him on Twitter, Facebook, Instagram, LinkedIn and YouTube.
###
Press Contact:
Brada PR
Kristien Brada-Thompson
(310) 930-3445; kristien@bradapr.com